FAQs
How do you handle returns?
You have 15 days from the date of purchase to return any items you've purchased from us.

How should I maintain my leather bag?
Apply a leather-specific cleaning to the surface.
To keep your purse supple, Moisturize it using leather conditioner.
As soon as you see stains, remove them.
Use bubble wrap to repair and maintain the form of your empty bag.
Use a suede brush to clean suede bags.
Do your leather goods contain just leather at all times?
Yes, each product is created from premium leathers such as 100 percent pure full-grain buffalo, goat, or camel leather.
If I inquire, will you replace my order?
No. Order cannot be changed. Within 30 days of the date of purchase, you may return the item. Returns will not be accepted after 30 days. A new product can also be ordered whenever you like.

Are you using corrosion-free metal?
Yes, we use premium brass metal that doesn't corrode.

What about your items' guarantees and warranties?
Guaranteed complete satisfaction. If the product is unused and new and you decide you don't like it or it arrives damaged, you have 15 days to return it.
Do you sell the item's component parts, such as the buckle, strap, etc.?
We do indeed sell. From our website, you may order anyone.

Do I have to use vegetable oil to polish my purchases once I buy them?
No. Although it is not necessary, you might purchase cream and condition the leather on your bag to keep it supple.

Why are the expensive goods you're selling priced so affordably?
Our own shop makes our handmade leather goods. Since there is no middleman, we save money on unnecessary trading and transportation expenses.
Is the customization of every product of your store possible?
Yes. Please contact us to give details of your customization along with the product. Every product can be customized on Parrys Leather World.
Where are your items created and produced?
Our goods are created in Rajasthan, India, where they are also produced.

Are your goods created by you?
Yes. Parrys Leather World only sells high-quality items that are expertly handcrafted by skilled craftspeople.

How can I reach you?
You can contact us by using the information on our website's "Contact Us" page, which includes directions to our office. Please contact us by email at Support@parrysleatherworld.com.
Will you swap out the strap and lock from my order?
No. Within 30 days of the delivery date, we will replace your original order; the products must be undamaged and unopened. If not, you may just get the strap or lock we currently have in stock.

Do you offer worldwide shipping?
Yes, we do ship to foreign countries.

What prerequisites must be met in order to return the item?
15 days after receiving your package
in its original state
Unworn and unwashed
in its original container
Are there any charges for returning the product?
There are no charges for return
Original shipping charges are non-refundable
You are responsible for return shipping charges
If your questions are not listed here, feel free to contact us, we are always here to help you in all possible ways. Reach out at support@parrysleatherworld.com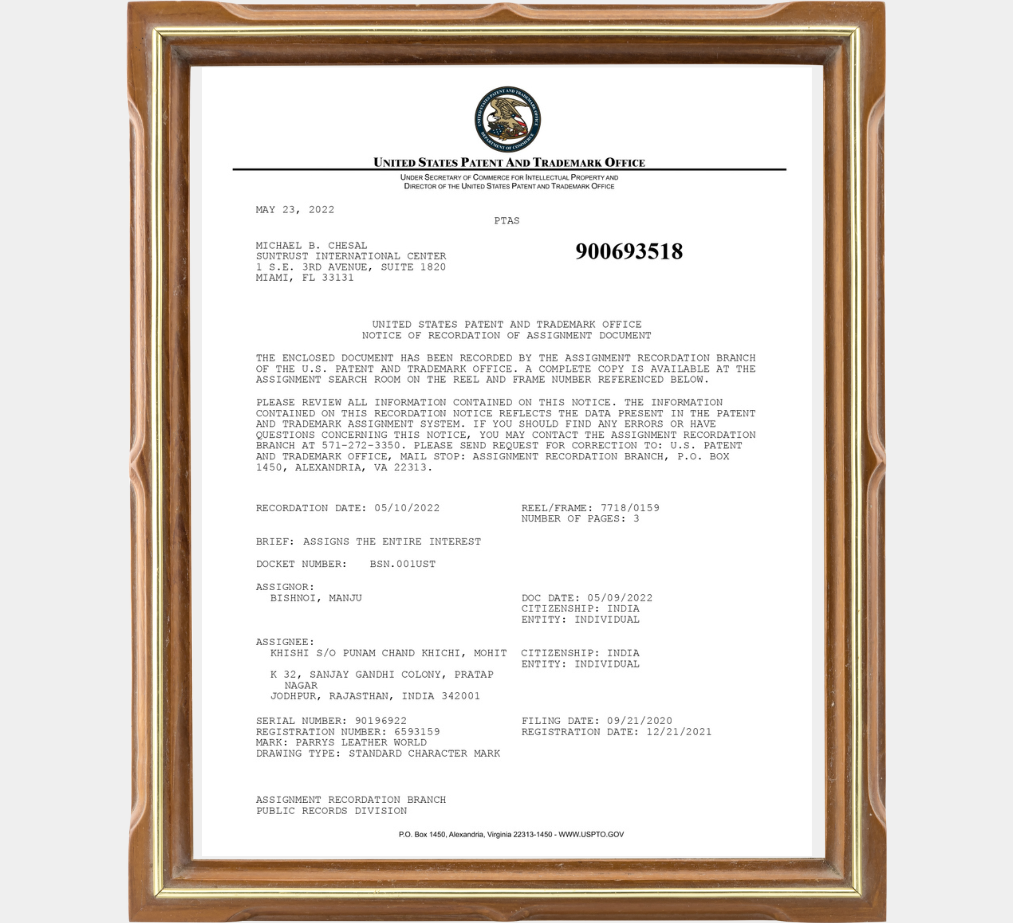 PARRYS LEATHER WORLD
Our product is officially registered and patented under the US office of Patent and Trademark